Springfield Place
Independent Living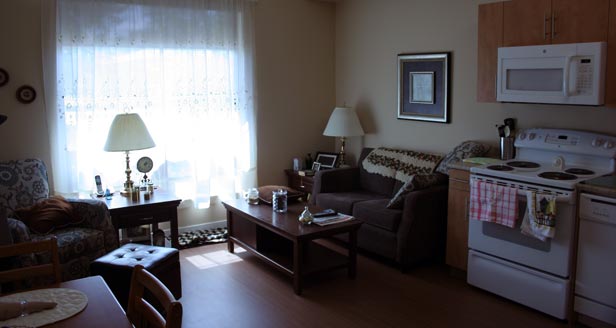 Springfield Place has 12 suites for individuals or couples who have the interest and capacity to live independently in their own apartment. Available to those who fit the basic criteria are eight one bedroom suites of approximately 650 square feet and four two bedroom suites of approximately 803 square feet. Each of the suites has a kitchen with a fridge, stove, dishwasher, microwave, dining room, living room, bedroom(s), washroom, closet and storage space, a scooter garage and a design that facilitates easy access to adjacent space and normal activities of daily living. Each apartment has windows to access natural light, hook-ups for computer and TV, space for installation of laundry appliances, individual thermostats and beautiful flooring.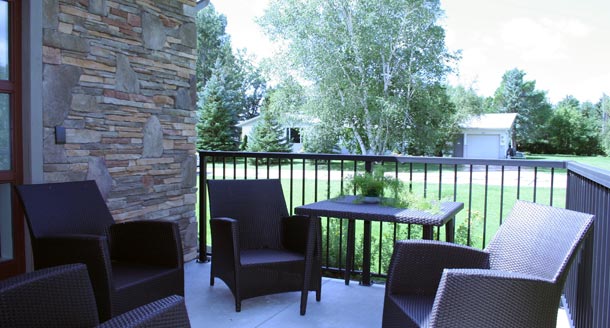 Residents of the Independent Living Suites have access to a parking stall as well as the landscaped grounds and sitting areas in the same. A common room that accommodates approximately 50 people provides the meeting space for get-togethers, group activities, visiting health clinics, and general socializing.

Springfield Place and Kin Place are both managed by an Executive Director who is accountable to the Board of Directors. Residents at both locations can expect their lodging spaces will be provided in a safe, secure and well maintained building. Preventative maintenance and repairs will be done in a timely manner and appropriate safety elements will be monitored on a regular basis. Common spaces will be regularly cleaned and attended to.

There is a Congregate Meal Program delivery service at Kin Place which offers nutritious meals in a social setting five times per week. Call 204-444-3132 ext 1 for the Congregate Meal Program.

At Springfield Place, folks can access nutritious meals twice per day, every day of the year. To reserve your meal, call 204-444-3132 and press 1 for the kitchen or leave a message.
Independent Living Plans