Facility Amenities
Kin Place Independent Living is attached to the Doctor's offices and the Personal Care Home by indoor corridors. Our tenants in Kin Place are welcomed to the Personal Care Home for activities and entertainment that is held there.
Kin Place offers the following services and activities.
Common Room
Kin Place has a Common Room that holds up to 80 people. This room is available for rent for any senior in the R. M. of Springfield. The tenants of Kin Place have held family dinners and events in the Common Room. Please call Natalie Raitt at 204-444-3132 ext 1 to reserve the Common Room.
There are also many activities that occur in the Common Room including carpet bowling, card playing, puzzles, internet access for the tenants, shuffleboard, movies, TV, Bingo and so on.
Congregate Meal Program
Kin Place is one of the sites that is fortunate to operate a Congregate Meal Program. This program is optional but highly recommended for our tenants. This service provides delivery of a nutritional meal 5 times per week as well as the sociability of sharing mealtimes with others. We encourage you to attend the meals and enjoy a social time – you are invited to play cards, games, do puzzles, or chat after the meals as well.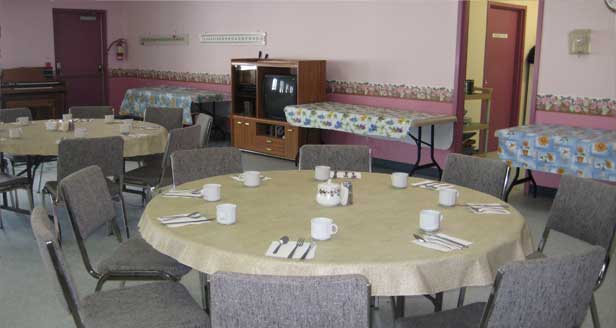 Housekeeping and Laundry Services

There are laundry facilities for our tenants to use. There is one washer and one dryer available for use and there is no charge for this service.
Maintenance Services

Our desire is to provide a safe and well-maintained building for the tenants and staff of Kin Place. We do this by completing both preventative maintenance and repairs in a timely and efficient manner. If your apartment should require any repairs, please sign the Repair Sheet found on the bulletin board by the front entrance
Garbage/Recycling

We offer garbage and recycling at Kin Place. The appropriate bins are found in the Garbage Room located at the north end of the building.